Recognition:
2018 Graphis Typography 4 Competition, Merit Award Winner
2018 Creative Quarterly 51 Graphic Design
, Runner-up
2017 SCAD Secession, Finalist.
2016 Adobe Design Achievement Award, Semifinalist. Fine Art - Graphic Design / Print
The project pertains to a topographical introduction of the conceptual artist Jenny Holzer through visualizing her renowned projects with metaphors consisting of playful typefaces and photographic imagery, beyond that, the interplay between her anonymous personality and her thought-provoking poststructuralism style in conception is also delineated.
The newspaper is subdivided into several sections, including a comprehensive intro on the cover and back, a delineation of her demagoguery works (including her renowned Inflammatory Essays and Truisms), a dissection of her idiosyncrasy, and an analysis of her work style. Audiences are expected to have a holistic view of Holzer from surface to depth, from representative to abstract, via the very organized texts and spreads.
The Holzerian work smacks of a preacher—at least ostensibly—overwhelmingly inculcating spectators the overarching trusims she extracted from mundane life. Her Trusims series, consisting of over 100 one-liners, appear to be the mind plateaus of each spectator—they are so many, so arresting, and so affirmative.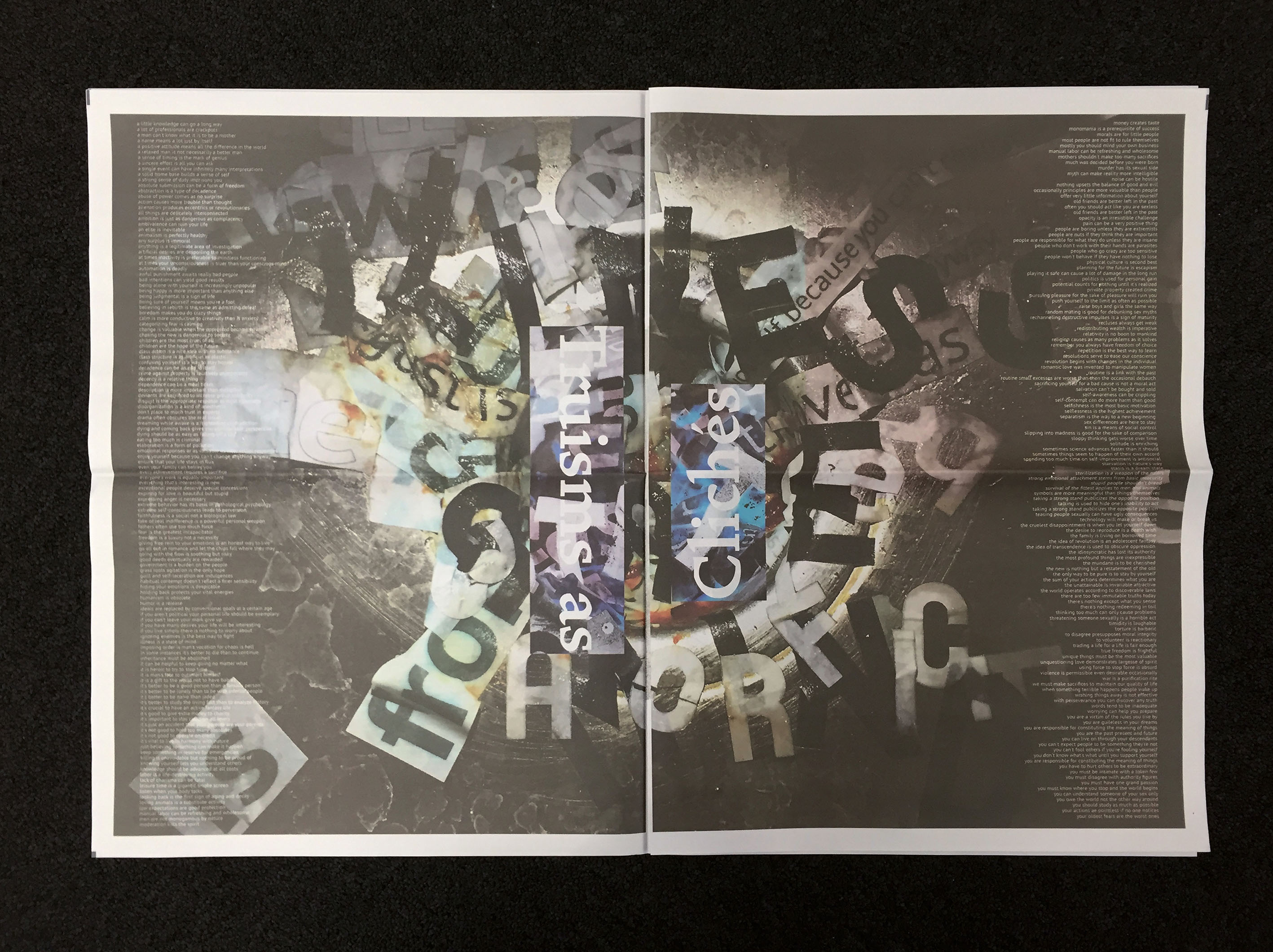 Notwithstanding the pithy verbiage in Holzer's work, the snarky statement she composed is in contrast with her lurking behind the texts, such play with anonymity yields ambiguous pronouns, thus attenuating the hegemony of the authorship in order to unshackle spectators' interpretations. Who is the protagonist of the narrative? What is our position in the statement? If it makes sense to you then what about the others?
Nothing is fixated—every text/message/narrative can be perceived and uttered from one's perspective and re-challenged and deconstructed and re-established by another individual, that is, the so-called meaning is defined by the coordination of the external stimuli as well as an individual's internal perception and cognition—the process of unpackaging the raw data and building bridges to the preexisted schemas.

Highlights & Close-ups